[ad_1]

Press Release Summary: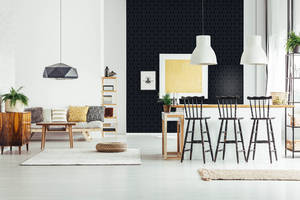 Provides an impervious barrier against stains and can stand up to industrial cleaning products
Resists and repels water, making it an ideal choice for bathrooms and laundry rooms
Uses advanced, easy-clean technology to create durable style in a wide range of colors and prints
---
Original Press Release:
DuPont™ Artisse™: Residential Wallpaper has Gone High-tech
DuPont technology is changing the residential wallpaper game for the good.
Wilmington, Del. (PRWeb) March 07, 2019 — DuPont Electronics & Imaging is introducing Artisse™ Wallpaper, a new line of residential wallpapers with a focus on design and durability for today's homeowner.
Wallpaper is enjoying a comeback. Homeowners want versatile, family-friendly options with more colors, textures and patterns – all with a focus on cleanability and durability. That is where DuPont wins. The new lines put style first, but include new functionality other wallpapers can't.
"Technology is really changing the wallpaper game," said Ethan Simon, Chief Technology Officer of the Photovoltaic & Advanced Materials business at DuPont. "Our new wallpaper has design as a top priority. We want to give families a wide range of choices in the latest styles, colors and trends; but also add some key functionality – including enhanced durability and cleanability – that consumers will be excited to have in their homes," said Simon.
The inspiration for this high-quality, cleanable and scratch-resistant wallpaper is found in the DuPont™ Tedlar® film technology, which has been used across industries for years in aircraft interiors, automotive parts, solar panels and sports arenas. "It was only natural that the material would find its way into the world of home design," added Simon.
Artisse™ is DuPont's new branded wallpaper in colors and patterns for home use. The family-friendly wallpaper has an extremely durable protective coating that naturally resists household stains and marks, making it perfect for every room of the home.
"It is immune to red wine, ballpoint pens, ketchup and, of course, crayons and lipstick. It provides an impervious barrier against stains and can stand up to industrial cleaning products," said Simon. "It also resists and repels water, making it an ideal choice for bathrooms and laundry rooms. It won't peel off your walls if it gets wet, and it won't shred during scrubbing."
Homeowners can decorate their kitchens with a contemporary geometric design able to stand up to errant marinara sauce, or reinvigorate stale bathrooms with throwback, vintage prints. Adventurous artists are no longer a problem, wallpaper can go into the kids' bedrooms too. Artisse™ wallpaper is easy to DIY, Simon said. "It's installed the same way as typical wallpaper, and it's actually slightly stiffer, so hanging is even easier."
For more information and to see how Artisse™ wallpaper would look in your home – go to our page on Houzz or order directly from the Artisse website.
Artisse™ Wallpaper is made with DuPont™ Tedlar® film allowing it to resist household stains and marks and uses innovative, easy-clean technology to create durable style in a wide range of colors and prints. Since its invention in 1948, Tedlar® technology has been used to protect a wide variety of applications, ranging from automotive, bus, train and aircraft interiors to fleet graphics and building surfaces. It continues to be a customer favorite because of its natural durability, scratch and stain resistance. Now, with Artisse™, DuPont has created one of the highest-performing wallpapers on the market.
About DuPont Electronics & Imaging
With the 2017 merger of Dow and DuPont, Dow Electronic Materials and DuPont Electronics & Communications have combined their portfolios and expertise to create the new DuPont Electronics & Imaging business, which is part of the new Specialty Products Division of DowDuPont. DuPont Electronics & Imaging is a global supplier of materials and technologies serving the semiconductor, advanced chip packaging, circuit board, electronic and industrial finishing, photovoltaic, display, and digital and flexographic printing industries. From advanced technology centers worldwide, teams of talented research scientists and application experts work closely with customers, providing solutions, products and technical service to enable next-generation technologies.
About DowDuPont Specialty Products Division
DowDuPont Specialty Products, a division of DowDuPont (NYSE: DWDP), is a global innovation leader with technology-based materials, ingredients and solutions that help transform industries and everyday life. Our employees apply diverse science and expertise to help customers advance their best ideas and deliver essential innovations in key markets including electronics, transportation, building and construction, health and wellness, food and worker safety. DowDuPont intends to separate the Specialty Products Division, which will be called DuPont, into an independent, publicly traded company. More information can be found at http://www.dow-dupont.com.
The DuPont Oval logo, DuPont™ and all products, unless otherwise noted, denoted with ™, ℠ or ® are trademarks or registered trademarks of E.I. du Pont de Nemours and Company or its affiliates.
Contact Information:
Tara Stewart
DuPont
+1-302-650-3063
Related
[ad_2]