[ad_1]

After some easy DIY projects you can do this Bank Holiday weekend? So what if the weekend isn't going to be the scorcher we were all hoping for! You might not being drinking Pimm's in the garden and eating your own body weight in BBQ food, but you can make the most of the long weekend with these super easy craft and DIY ideas that can update your space quickly and cheaply…
Want more craft projects or step by step weekend projects you can tackle this weekend? Visit our hub pages.
1. DIY headboard: paint a headboard on the wall
Literally the cheapest alternative to a real headboard, all you need for this this quick DIY project is some paint, a brush (or roller) and some masking tape. Start by using tape to mark out a rectangle around the top of your bed. Then, take your colour of choice and start painting, being careful to keep within the lines of the masking tape. Let the paint dry, giving it another coat if it needs one, and then peel away the masking tape.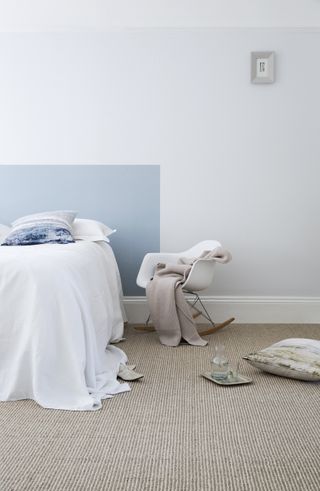 We also love how this kind of fake painted dado rail (below) creates a headboard in this gorgeous pink room. Copy this idea by measuring a quarter of the way up your bedroom wall and use masking tape to mark a straight line. Then just follow the same instructions above – paint, let dry, remove tape, done. 
We think this look works best if you use a darker colour for the lower portion of the wall and keep it lighter on top. But mix it up however you fancy, go and get some inspo from our bedroom paint ideas.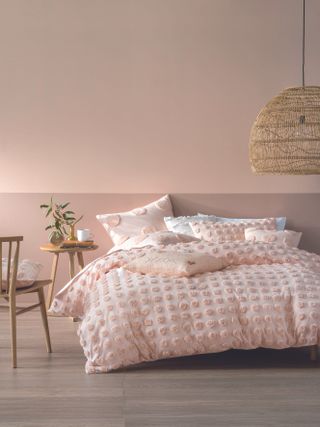 2. DIY headboard: make a stylish cushion headboard 
Try and ignore the cute dog for sec and take a look at that DIY headboard. For this super easy DIY project, just pick two or three large square cushions and attach some small brass rings (curtains rings work well) to the top two corners. Then, using the size of your chosen cushions as a guide, mark out where you need to place the nails or screws that will hold up the cushions. Hammer some large brass nails and you're done (or use screws if you prefer). 
Take a tour of the rest of this gorgeous log cabin, there are more dog pics over there too.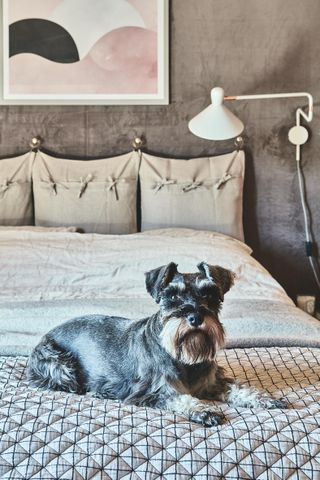 3. DIY kitchen storage: make chalkboard storage jars 
We couldn't do a DIY ideas feature without including some kind of storage hack, it's a Marie Kondo world and we're just loving living in it. This DIY project is a great way to make the most of all those Dolmio jars you have been hoarding under your sink – just head over to our simple step-by-step DIY chalkboard Mason jar labels to find out how. 
4. Hanging plant holders: learn how to macramé
Macramé, aka that woven, knotted textile you have been seeing all over Instagram for the past few months, has clearly made a comeback, shedding its fussy '70s wall-hanging skin, and transforming into a more subtle, boho-vibe, Pinterest-worthy interior trend. Best part about macramé is that you can do it yourself on the cheap. So don that velvet kaftan, get the incense burning, and go have a read of our tips on how to macramé. It's easy.
5. Paint a chalkboard
So maybe our chalkboard wall won't look as glorious as Instagrammer Theresa Gromski's, but this super easy DIY project can quickly add a load of interest to your space. Paint a chalkboard in your kid's bedroom and let them go to town, or add one to your kitchen and use it as a place to write your shopping list, ooor paint one in your home office and turn it into a calendar or a massive to do list. 
We've got a loads more tips and ideas in our how to create a chalkboard wall feature so go and check that out too.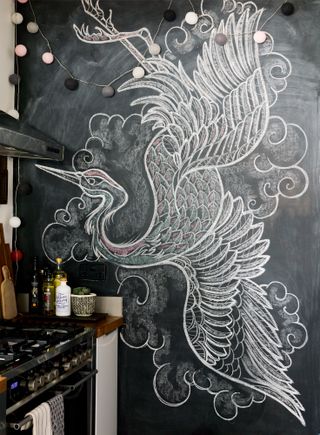 6. DIY lamps: for the bedside and beyond
Love a good Ikea hack? This DIY project is for you. Get yourself an Ikea Ekby shelf bracket, and a small pendant light of your choice, ideally one that plugs into the wall (Amazon sell loads of plug in pendant light kits). Wall-mount the shelf bracket next to your bed (or above the sofa or in the kitchen, wherever) and either thread the wire through the already existing holes in the bracket or wrap it around the bracket instead.
Check out more of our Ikea hacks that you can do this weekend. 
7. Tile stickers: to quickly update your walls (or floors) 
We are obsessed with these adhesive tiles from Dunelm. They are so easy to use and only cost £14 for a pack of 10, so you could give your kitchen splashback an update or 'tile' around a fireplace with just one pack. Amazingly, they also work on floors! There are loads of patterns available but this bang on trend star design is our fave. 
For more kitchen flooring ideas head over to our dedicated feature. 
8. Stencil to upcycle furniture fast
Ah stencils, what a great way to make your furniture look way more interesting than it actually is. This DIY project is quick, easy and costs next to nothing. Annie Sloan has some gorgeous stencil designs that you can use to upcycle your furniture; just follow our guide to how to stencil to make sure you get the best results. 
Read more:
[ad_2]