[ad_1]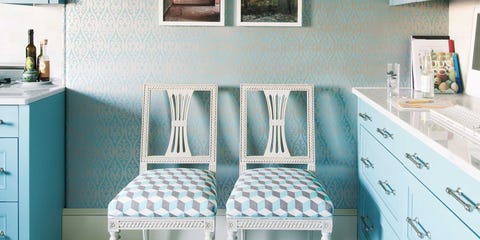 Annie Schlechter
February is Black History Month in the U.S., which provides a necessary opportunity to reflect on influential African Americans throughout time. But, as any smart historian knows, history is constantly in the making. So, in the spirit of looking ahead, House Beautiful has rounded up 29 designers making history today (one for each day of the month, on a leap year, since we like to round up). Though these creatives run the gamut of style, they have one important thing in common: These are names you want to know.
Advertisement – Continue Reading Below
The Grand Dame: Sheila Bridges
Any list of pioneering black designers would be remiss not to mention Bridges, whose colorful interiors (like the blue kitchen above) have been brightening homes and gracing the pages of shelter magazines since she founded her practice in 1994. Bridges, who has been named to Elle Decor's A List and House Beautiful's onetime Top 100 Interior Designers list, creates spaces that are at once visually intriguing and comfortably, invitingly layered. She often goes by the nickname Harlem Toile Girl, an allusion to the riff on traditional Toile de Jouy, which she created as part of her Sheila Bridges Home, Inc. line. Bridges is known in the industry as an ardent supporter of and advocate for fellow black creatives.
The Entrepreneur: Nicole Gibbons
Dissatisfied with her experiences buying paint while working as a designer, Gibbons took matters into her own hands last year, launching Clare, a direct-to-consumer startup that puts a user friendly (and prettily packaged!) spin on buying paint. As a result, Gibbons has mostly traded in her design schemes for business plans, though her creative eye still goes to good use overseeing styling and branding for Clare.
The Set Designer-Turned-TV Star: Mikel Welch
Mikel Welch knows how to make a statement. After all, he cut his teeth designing TV sets for Steve Harvey (after he broke into the design world by responding to Craigslist ads looking for pro-bono design work) and went on to create green rooms for the likes of Michelle Obama, Oprah, and Halle Berry. Now, he's earned a fan base of his own for a star turn on The Real Housewives of Atlanta (where he designed star Sheree Whitfield's so-called "Château Sheree"). Up next? Welch joins the case of the rebooted Trading Spaces, premiering March 16.
The California Cool Girl: Brigitte Romanek
After a partnership with Estée Stanley that led to Hancock Design, Los Angeles-based Romanek is newly on her own as eponymous founder of Romanek Design Studio and was named to Architectural Digest's AD100 for the first time this year. The self-taught talent has a penchant for airy, modern spaces with soul. Recently, she's been working on ballerina Misty Copeland's home—we can't wait to see the finished result!
The Traditionalist with a Twist: Darryl Carter
This Washington, D.C.-based talent—who left a career in law behind to pursue design—is hard to pin down, style-wise. Carter's interiors can always be sure to include antiques, but often in unexpected groupings or paired with stark, white walls or modern art.
The Organizer: Malene Barnett
In 2018, Barnett—an interior, carpet, and textile designer-turned ceramic artist—turned her frustration with a lack of diversity in the design industry into a call to action: Within a few months she had launched the Black Artist and Designers Guild, an online directory of black creative talent. Leveraging her connections to fellow creators of color, Barnett created a veritable movement which took an industry to task for poor representation—and presented a way to fix it.
The Green Goddess: Justina Blakeney
With a cheeky catchphrase and blog—The Jungalow—Blakeney took the internet by storm, captivating design lovers with her singular style, a mix of relaxed, California cool and lush garden oasis. Since then, the designer has penned two New York Times bestselling books and debuted furniture lines with Selamat and Anthropologie. She has no plans to slow down soon: Blakeney just dropped a new luggage line for Target, which is already flying off shelves.
The Master Tailor: Kesha Franklin
Franklin, who founded and helms the New York firm Halden Interiors is prone to tailoring in multiple sense of the word: The designer creates impeccably tailored spaces, and her process is also the result of plans that are, as the designer says, "unapologetically client-centric," custom-tailored to their owners. Clearly, the style is a hit: Franklin just signed a deal to design Colin Kapernick's home.
The Power Couple: AphroChic
Since 2007, Jeanine Hays and Bryan Mason have been partners in business as well as life, co-running AphroChic, an interior design firm that has grown to comprise collections of textiles, furniture, lighting, accessories, and clothing. The husband-and-wife-duo call their vision "Modern.Soulful.Style."
The HGTV Star: Tiffany Brooks
Brooks was crowned the winner of HGTV's Design Star in 2013, and she's only continued to glow since then, hosting TV programs like HGTV's Smart Home while still maintaining a roster of loyal clients (some too famous to name) and serving as an active member of the Black Interior Designers Network.
The Collaborator: Corey Damen Jankins
Whether in his home city of Detroit or at a design event in New York City (where he recently opened a second office), Jenkins is always sure to know most people in any room he's in. This makes sense; besides his infectious personality, Jenkins has participated in numerous collaborations throughout the industry. Among them: Hudson Valley Lighting's first-ever designer line, a collection for Leathercraft, and a national ad campaign for DXV. That's all in addition to his design projects and a slew of charity work.
The Color Expert: Rayman Boozer
Shortly after Boozer opened the design arm of Apartment 48, his (sadly now-shuttered) home design store in Chelsea, Time Out magazine named him "the go-to designer for color consulting." Now, some two decades later, Boozer—who got his first taste of the industry devouring shelter magazines in his Indiana hometown—has designed spaces that have been featured in House Beautiful, Elle Decor, and more.
The Office Whisperer: Dani Arps
Name a hip, forward-thinking startup, and there's a chance Dani Arps had her hand in it. The New York-based designer—and House Beautiful's latest Next Waver—has conceived offices for the likes of SeatGeek, Venmo, and Yipit. Her signature: imagining spaces that both clearly reflect their companies and make work easier, whether that's with bespoke moveable furniture, special acoustic treatments, or just a really good café.
The Fashion-Informed: Joy Moyler
"Fashion, for as long as I can remember has influenced and underscored the content of my projects," says New Rochelle, New York-based Moyler on her website. Her penchant for the texture, pattern, and detail of haberdashery has led to interiors projects for the likes of Leonardo DiCaprio and Adrien Brody, stores for Harry Winston, and offices for PWC and Merrill Lynch. The designer is currently at work on projects from Moscow to Paris.
The Colorful Modernist: Courtney McLeod
"We create one-of-a-kind interiors for a life lived more colorfully, more beautifully, more joyfully." That's the motto at Right-Meets-Left Interior Design, the brainchild (from both sides of the brain, which every good designer knows are equally important) of Courtney McLeod. The New York-based talent has a knack for mixing modern masterpieces, like the iconic Eames lounge, with bold, colorful art, wallpaper, or accents, for interiors that are serious but livable.
The Mix Artist: Erin Shakoor
There's never a dull moment in a space by Erin Shakoor. The founder of Shakoor Interiors is known for her bold use of color and pattern, rich jewel tones, and statement-making artwork. She's not only interested in the inside of buildings, though; the native Chicagoan also has a certificate in historic preservation through Northwestern University's Continuing Studies Program.
The Eclectic: Beth Diana Smith
It's telling that Smith's Instagram bio refers to herself as an "eclectic human"—after graduating from the New York School of Interior Design, Smith set about creating a style that isn't easy to pin down. Smith is also an active member of the Black Interior Designers Network, for whom she helped organize a sold-out panel at her alma mater this winter.
The Minimalists: Ishka Designs
Based in Park Slope, Brooklyn, this duo creates interiors that are breathtakingly beautiful in their simplicity. Anishka Clarke and Niya Bascom came to design from careers in finance (her) and photography (him) and are a couple in life as well as in work.
The Fresh Females: Forbes + Masters
Tavia Forbes and Monet Masters are each talented designers on their own; together, they're a force to be reckoned with. Besides their stylish eyes and knack for creating spaces well-suited to their owners' lives, the Atlanta-based creatives are business-savvy (Forbes studied marketing before getting into design) and always up on the latest technology to make their practice more streamlined.
The Culturalist: Danielle Colding
With a degree in Cultural Anthropology and a Minor in African and African American Studies from Stanford, it should come as little surprise that New York-based Colding cites culture as a strong influence on her work. "The way we choose to live in the world has always been intriguing," says Colding, who has a knack for creating spaces informed by the classics and infused with the personal. She's also active in several nonprofit organizations and has twice served as host for Young Collector's Night at the Winter Antiques Show.
The Networker: Keia McSwain
When designer Kimberly Ward, founder of the Black Interior Designers Network, passed away in 2017, her friend and business partner at Kimberly & Cameron Interiors, Keia McSwain, carried on the torch. Today, McSwain is actively continuing BIDN's most popular programs—like its annual conference and Top 20 list—while also spearheading new initiatives, like a talk at the New York School of Interior Design.
The Multihyphenate: Leyden Lewis
New York-based Lewis cites his childhood in Trinidad and Tobago, love of European modernism, and current hometown as various influences on his work—and it shows. His spaces have a modern textural complexity paired with saturated colors and comfortable details. Besides creating interiors of his own, Lewis also shares his wisdom as director of the Institute for Continuing & Professional Studies at the New York School of Interior Design.
The Eccentric Bohemian: Bailey Li
Li, a self-taught designer, has carved a niche with her specific style of glam-rustic decor, with rooms that often feature antiques paired with bold, modern pieces. Another signature: hand-painted walls and murals, which instantly add an artful touch to her spaces.
The Materials Master: Michel Smith Boyd
With a penchant for creating sumptuous, layered interiors with lots of pattern and texture, Michel Smith Boyd has built a loyal cadre of clients—as well as a fan base thanks to his role on Bravo's Buying It Blind. Boyd derives inspiration from hospitality designs, and his residential projects often have the feel of a luxe hotel.
The Classic-Minded: Keita Turner
New York-based Turner calls her aesthetic "fashionably classic." Indeed, though the creative tends towards more traditional details in her work, her love of (and background in) fashion results in subtle tweaks to the classics that make for always interesting interiors. Turner has participated in partnerships with the likes of Home Depot, designed spaces for Housing Works's Design on a Dime, and served on the Young Collectors Night committee of the Winter Antiques Show.
The Man About Town: Rio Hamilton
Someone at a cool design party asking to snap your photo? Chances are it's Rio Hamilton: designer, frequent speaker, and social butterfly chronicling the design scene. When he's not snapping photos, Hamilton can be found outfitting rooms for the likes of New York's Holiday House and hosting TV segments.
The Boss Mom: Saudah Saleem
Saudah Saleem balances her five kids, design practice, and appearances on HGTV and design panels with a know-how she sums up better than we can: #BossMom. The Baltimore-based designer is known for bright, airy interiors (and exteriors; see photo) that you can't help but feel happy in.
TheTraditionalist: Erika Ward
Atlanta-based Ward creates warm, highly photogenic spaces using tried-and-true classics, like Louiz XVI armchairs and parsons tables, often freshened up with bright, preppy upholstery.
The Next Generation: Randall Jones
Jones, a junior designer for Dani Arp (see above) and an MFA candidate at Parsons, mobilized her fellow design students of color last year to found Obsidian, a collective of black designers at Parsons. Jones's design approach is thoughtful and smart: "I seek to respond sensitively and directly to the collective evolutionary growth of society through the transformation of spaces that I create," she says.
Advertisement – Continue Reading Below


[ad_2]